Knob and Tube Wiring
Knob & Tube Wiring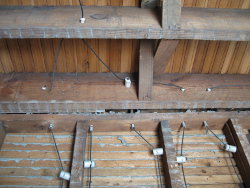 Knob and tube wiring is a single conductor ungrounded system. Also known as open wiring, this system consists of copper wire wrapped in rubberized cloth, as well as live and neutral wires which are not bundled and insulated with plastic as they are today. Instead they are kept apart by ceramic or porcelain knobs and insulated with porcelain tubes where they pass through wood. This wiring system used to distribute power in homes during the dawning days of electricity. Homes built in the early 1900s were wired with this system through to the 1940s. While this type of home electrical wiring may have been the safest and most effective method to distribute electricity throughout the home at the time, it is now very outdated and poses an increased risk of both electrical shock and fire.
If you live in an older home in Dubuque, Iowa or the surrounding area of northwest Illinois, and you know or suspect your home has outdated knob and tube wiring, you should call the licensed electricians at Budget Electric to perform a complete inspection of your home. We can check the condition of the wiring and replace any knob and tube circuits that have been damaged, modified or covered in insulation.
Problems with Knob and Tube Wiring
No electrical ground path. This makes knob and tube wiring less safe than modern grounded and insulated wiring. Home appliances that use a grounded plug should never be used with ungrounded circuits. The lack of a ground can create a serious shock hazard.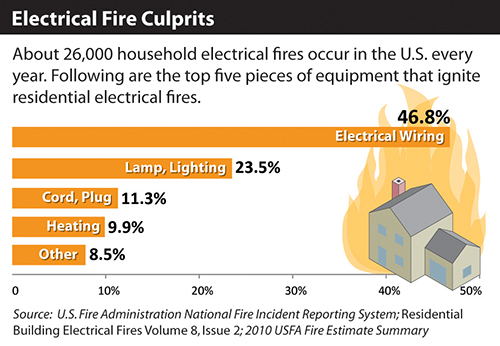 Damaged tubes and worn wires. The ceramic or porcelain tubes used to insulate the wire when passing through wood can become damaged over time and the rubberized cloth which the wires are wrapped in can also become worn and can suffer damage when squirrels and other rodents chew through them. Wires can also become stretched and start to sag and, unlike modern wiring, these old systems do not have a grounding conductor to reduce the risk of electric shock. The electrical loads of today's households have greatly increased and these older systems were not designed to handle such high usage.
Modifications. Changes to the building over the years may also have impacted the tubes and wiring. The adding of insulation or new additions to the home may have prompted previous owners to modify or expand the existing wiring. As a result the knob and tube wiring system may have been extended. This adds to the electricity load of the circuits and increases the temperature of the wires which could cause a fire. There may have been unsafe modifications done by untrained electricians, or even the homeowners themselves, which is why an inspection of knob and tube wiring systems is so important for the safety of your home and family. Insulation should never be put over knob and tube wiring as it may cause heat buildup. Unfortunately over the years homeowners unknowingly cover up the knob and tube with insulation thus creating a safety hazards.
For a home electrical inspection or replacement of a tube and wiring system, choose the licensed and insured electricians at Budget Electric. As master electricians, we have serviced the area around Dubuque, IA including Galena, IL, for over three decades. Call 563-590-5679. No job is too big or too small. We accept credit cards, personal checks and cash. Call today.