Electric Panel Installations
Electrical Panel Installations
Budget Electric has been in business in Dubuque Iowa for over 30 years, so we have seen technology change faster than homeowners can keep up. If you live in one of the Dubuque area's fine older brick homes, or even a house that was built in the mid to late 20th century, chances are good that you are in need of an electrical panel upgrade. Increasingly our houses are required to power more and more gadgets and appliances and this can sometimes overburden their capacity to deliver electricity safely and efficiently. This means that homes built as recently as the 1980s may require electric panel upgrades to meet today's energy demands. Keeping your residential electrical system upgraded will lower your risk of power failure as well as the risk of fire.
An Electric Panel is Essential to Powering Your Home or Business
The electrical panel of your home acts as a hub which takes electricity from your local power company in eastern Iowa or northwestern Illinois and distributes to the different areas of your home. It is necessary to make sure this panel functions properly and efficiently. The safety of your family and your home depends on it. If you suspect that your electrical panel is outdated, you should call a professional master electrician like Budget Electric and have it inspected. We can advise you on the necessary electrical panel upgrades that will best suit the needs of your home. Residential homes aren't the only buildings that need to have the most up-to-date electrical panels. Commercial businesses and industrial structures are required to be up to code.
To find the electrical panel in your home look for a gray metal box attached to or recessed in a wall. Inside you can see the circuit breakers that control the electricity to different areas of the home. Unless you are simply flipping a circuit breaker located in the electric panel, you should leave any repair or maintenance to a professional electrician to avoid damage and the risk of injury.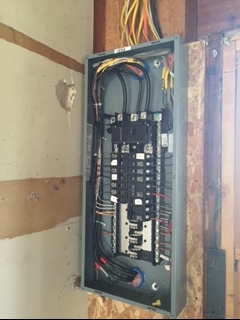 There are a few signs to look for when determining whether your home is in need of an electrical panel upgrade:
Flickering lights
Breakers that trip frequently
Frequently blown fuses
Inability to run multiple appliances at the same time
Appliances failing to run at full speed
Melted wiring
Crackling noises coming from inside the panel
Rust on the breakers of the panel itself
Upgrading your electrical panel is an important part of home remodeling and renovation. If you are remodeling your kitchen and adding additional appliances, this will help distribute power more efficiently. If you are adding a new addition to your home or installing an air conditioning or heating system or adding power to a new garage, this can be better served with an electrical panel upgrade.
For electrical panel upgrades for either residential or commercial concerns, choose the licensed and insured electricians at Budget Electric. We have provided our services to Dubuque, IA, Galena, IL and the surrounding area for over three decades. Call 563-590-5679 today. No job is too big or too small. We accept credit cards, personal checks and cash.